Igniting Creativity Through Technology
GenieLab empowers youth and promotes digital literacy by bridging the gap between design, art, and technology, one experience at a time.
Founded in 2012, GénieLab is a non-profit organization determined to transform digital citizenship and provide hands-on experiences accessible for all, including special needs, disadvantaged, and underserved youth.
We design and develop creative solutions to digital literacy challenges in order to improve access to technology using an approach grounded in collaboration, experimentation, and STEAM education.
We connect the physical and virtual worlds in creative ways.
We collaborate with museums, libraries & the cultural sector, helping them reach their audiences through interactive installations.
Our team has completed 290 projects to date, bringing together like-minded individuals from diverse backgrounds. Our novel approaches provide access to meaningful cultural assets in various experiential formats.
Workshops for youth & families
Our interactive workshops make technology approachable and fun, igniting the participants' creativity. Covering the themes of connected objects, circuits and electricity, artificial intelligence, playful robotics, creative coding, and more, each experience inspires curiosity in a collaborative setting.
All workshops can be hosted remote or on-site
What our clients are saying
Merci beaucoup à vous et à votre formidable équipe pour votre participation à Eureka le week-end dernier ! C'était génial et, encore une fois, vous avez su vous adapter aux petits curieux et curieuses. BRAVO !
Marie-Pierre Carbonneau
Agente de développement, Concertation Montréal (CMTL)
C'était un super prototype des équipes pro de part et d'autre, et je réitère : votre présentation était excellente!
Brigitte Belleville
Chargée de projet numérique, Direction de l'engagement numérique Musée de la Civilisation de Québec
Our interactive, gamified STEAM kit, Wally, guides young innovators on a mission through history and science while teaching them the basics of coding, problem-solving, and Morse code.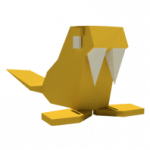 We encourage a culture of recycling and re-use, with an emphasis on the physical world. Hacking and re-using go hand in hand with the awareness of ethics and sustainability.